An Englishman in New York City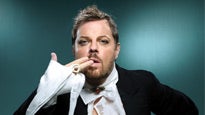 Photo from Ticketmaster.com
I went to the Union Square Theatre last night to see one of my favorite comics, Eddie Izzard. Some British friends had introduced me to his hilariousness a while ago and I've adored him since.
I had never been to a big name comedy shows and didn't know what to expect. I was a bit surprised with the line wrapping around the block just to pick up tickets, but it moved quickly and we got in with time to spare. The stage was set up for Jump, a martial arts show with an Asian-styled set and a stage floor made of a bouncy material. Looked pretty intriguing.
When Eddie Izzard entered the stage, he received thunderous cheering. He was not in drag, which surprised me a bit. After taking advantage of the stage's bouncy floor, he launched into a hysterical routine on subjects such as politics, the Stone Age, Wikipedia, and God. I had not seen him do any of this material before, but it was delivered in his characteristic style of non-sequiters and British wit. I found myself laughing almost non-stop for the whole show.